Around the middle of December, 1944, Japanese marines began to erect obstructions in many of the streets of Ermita. Concrete barriers, strewn with interlacing barbed wires, were placed along these streets, some of which were also sowed with deadly land mines and aerial bombs buried with their fuses protruding slightly above the surface of the street. Pill boxes were built in a hurry in certain strategic places. Our house was a corner house and its fence had an ornate iron railing embedded atop a concrete base that was about a meter or so in height. The Japanese entered our house and constructed an elaborate pill box at the corner where two rectangular openings were chiseled out the fence's concrete base and through which were positioned two clip fed high caliber guns. The guns commanded a wide expanse of the eastern length of Isaac Peral and the southern approach to Florida Streets. The soldiers also dug a trench from the pill box leading directly to the crawl space under our house. Many pre-war Manila houses, especially those built of concrete, had its first floor constructed about a meter or so above the ground, thus creating crawl space between the ground and the first floor. Diagonally across the pill box was the campus of the University of the Philippines (UP) and on its eastern side, the Episcopalian Cathedral, both of which had been commandeered and occupied by the Japanese. Sentries were posted on the eastern corners of Isaac Peral Street but the Japanese soldiers manning these posts did not carry guns but were only armed, amazingly, with a spear made from a long wooden pole to which was attached a sharp blade.
I remember that February 3, 1945, was a Saturday because my father told me not to hear Mass the next day at the Ermita Church as it now seemed too dangerous to be walking about the streets. Early in the evening of the same day, my father received a telephone call from a relative who lived in the Santa Cruz district of Manila. The message was short but direct to the point: "The Americans were now in the northern part of Manila!" Shortly after this call, all telephone communication was cut off. About mid-afternoon of Sunday, February 4, we heard several extremely loud explosions north of where we were. My father thought aloud and said that the Japanese must be blowing up the bridges that spanned the Pasig River. He was right. Electricity and water supply had been cut off even earlier. My mother had the foresight of collecting potable water in several demijohns. She also had an artesian well dug in our yard but the water that was pumped out was salty as we were very near Manila Bay.
On February 5 or 6, a Piper Cub, a single engine American observatory plane, flew over Ermita and Malate and dropped leaflets. One, I recall, announced that General MacArthur had landed in Leyte earlier in October of 1944. We got a good look at this Piper Cub as it flew over us at a rather low altitude. What struck most of us as odd was the insignia on the plane. We remembered that the insignia on American airplanes was a big white star with a red ball in the middle. The insignia on the Piper Cub was a white star with two wide white strips on each side.
No sooner had the Piper Cub left than the American shelling began. To be in the receiving end of an incoming shell is about the most frightful experience one can ever live through. An incoming shell sounds very much like a speeding freight train coming straight at you. Because of the Doppler effect, the pitch of its screech gets higher and higher as it nears you, if you are, or if you are near, its intended target. A shell hit the Prince Hotel, which was just at the back of our house, severely wounding Mr. Wing, its Chinese proprietor. We were shelled daily. The shelling at night was even more frightful as we were in total darkness. The house of Dr. Rafael Moreta, our immediate neighbor, was hit by a shell in the evening of February 8. My mother invited the Moreta family to come to our house as our house was more strongly built and the Moretas were all cramped in an air raid shelter in their yard.
The darkness of night on February 9 was suddenly lifted by the glow of raging fires that broke out all over Ermita. It seemed that the Japanese were setting fire to the houses in our neighborhood. Except for the Episcopalian Church and the buildings in the UP campus (both of which were occupied by the Japanese), fires raged all around us. My cousin Anselmo Salang was attempting to tear down the sawali matting [woven strips of split bamboo used for partitions] that hung on the fence separating our house from the Prince Hotel, when a Japanese soldier, standing on the steps of the Episcopalian Cathedral drew a bead on him and shot him, narrowly missing his head by just a foot. Civilians, whose homes were on fire, came streaming to our house to seek shelter. By around midnight of February 9, there were about 120 people huddled in the ground floor of our home.
They set the fires, and shot anyone seen fleeing the burning buildings.
In the morning of February 10, a Japanese officer came to our house and told us that we all had to leave in an hour's time. We quickly packed small packages of whatever food we could gather, but in less than half an hour, a squad of fully armed Japanese marines came to our house and mounted a machine gun pointed at our front entrance. We were told to leave immediately. The elders in our house had earlier decided to seek refuge at the Ateneo University or at the Philippine General Hospital (PGH) at Padre Faura Street. As we streamed out of the main entrance of our home, the Japanese soldiers began rummaging through our belongings, opening bags, and helping themselves to whatever they found. I clearly remember one Japanese marine taking a wad of Japanese wartime peso notes from the handbag of an elderly lady as if there were still any place where he could have spent such useless paper bills! I now realize that the Japanese did not kill all of us, all 120 or so of us, because it would have been too much trouble getting rid or burying so many dead bodies. They were anxious to get into our house to feast on whatever they would find inside.
The only way from our house in Isaac Peral to the PGH or the Ateneo was through Florida Street. Those who came out of our house first, walked ahead of the rest that came later. I remember walking on Florida Street towards Padre Faura Street with my elder brother George, Jr. to my left. My mother was slightly ahead of me and to my right. To my left also and about four meters ahead of me, carrying a basket on her head, was fifteen year old Leonarda "Narda" Pangan, a native of Dinalupihan, Bataan, my mother's hometown. Florida Street was strewn with debris. The buildings along its side across the UP campus were all razed by the fires that raged the night before. Florida Hall, the boarding house for the female students of the UP, was just a pile of smoking rubble as were the other buildings along the whole length of Florida Street. We were nearing Arkansas Street (now Engracia C. Reyes), which ran directly perpendicular to the entrance of the UP College of Engineering, now the Court of Appeals, when my mind began to wander a bit as I recalled that it was at this very same spot where, a year or so ago, the Japanese sentry posted at the gate leading to the building of the College of Engineering shouted at me with a shrill Kura Kura! as I passed him on the other side of the street. I knew immediately that I had failed to stop and to bow before I passed him. I quickly retraced my steps, stood in front of the sentry, and bowed bending from my waist. I may have gotten off easy as the sentry did not command me to come forward to be slapped but just waved me on after I had bowed.
My bit of day-dreaming was suddenly interrupted by a horrendous and ear-splitting explosion ahead of me and to my left. I glanced to my left and saw my elder brother George Jr. standing with both hands covering his face. About two meters in front of him, lay the legless torso of a woman with long black hair, whose left arm was also amputated up to the shoulder. She lay moaning, blood flowing from the stump of her lower torso. My mind was in a daze and my ears were ringing but I soon realized that this hapless woman was the fifteen year old Narda. She had stepped on an anti-personnel land mine! As I gazed to my right, I saw my mother lying on the ground on her right side, all bloodied and motionless. I rushed to her side as I called to her but I received no response. Suddenly, someone shouted "Run, save yourselves!" Many in our group just dropped whatever they were carrying and ran towards Padre Faura Street. Anselmo Salang, my cousin, heroically took it upon himself to carry my mother, as we all madly rushed towards Padre Faura Street and into the PGH. Slowly, we found each member of our family in the interior court yard of the PGH. Doctors attended to my mother as best as they could and she was placed on a bed in a ward on the second floor of the hospital facing Taft Avenue. My brother George, Jr., blinded by the land mine blast, was placed on a bed at another ward. The rest of us, including Robert Reyes, my seven month old first cousin being cared for by my maternal grandmother, sought shelter at the Nurses' Home, a two-story building on the corner of Taft Avenue and Padre Faura Street, which served as dormitory for the nurses on duty. The mangled body of poor Narda was left where it lay on Florida Street.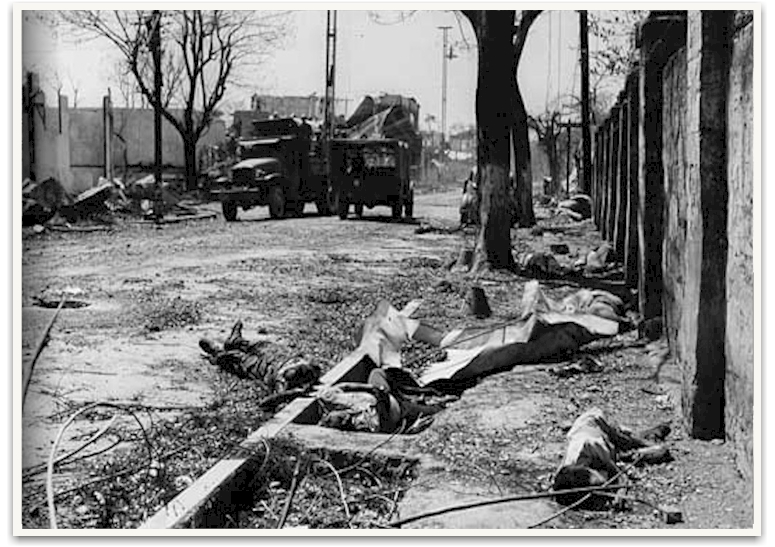 <![if !supportFootnotes]> <![endif]>
<![if !supportFootnotes]> Go to Page 3<![endif]>